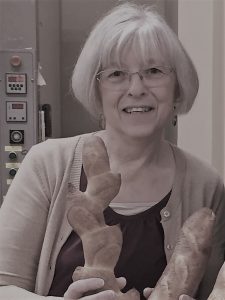 Basic info: I am a native Vermonter! I grew up on a registered Holstein dairy farm in the beautiful Champlain Valley. By the time I was in 7th grade, I knew I wanted to work for a French company and I made that my goal. I was passionate about the French language, even though no one in my family spoke French. My grandmother had given me a book of the French impressionist artists when I was quite young, which sealed my determination to live in France one day. A poster of Le Château de Versailles hung on the wall of my childhood bedroom and I was certain that one day I would visit this most famous chateau.
Education: I have a BA in French from the University of Vermont, and a Master of International Management from the Thunderbird School of Global Management. While at UVM, I had the opportunity to study for a full year at the University of Nice in France. That year started with 6 weeks of study at the world-famous Sorbonne in Paris where test results determined the level I would enter at the University of Nice. I entered at the highest level, which put me in classes with French students who were in their last year of college. The courses were very challenging, but this was a big step in achieving the goal I had set for myself back in grade school. When I returned to the U.S., I often found myself struggling with English as French had become my near-native language! During my years at UVM, I also studied Spanish and German. A few years ago, I had the opportunity to further my study of Spanish in Salamanca, Spain. I spent a glorious summer not only studying in the classroom but traveling throughout Spain and interacting with the outgoing Spaniards. Foreign language learning opens the doors to incredible life experiences.
Work Experience: Teaching is a second career for me. After graduate school, I went to work for Elf Aquitaine (today Total), a major French corporation with operations in oil & gas exploration and production throughout the world. I had the good fortune to work many years for this company, starting in Houston, Texas and then moving to their world-wide headquarters in Paris where I worked as the manager of financial reporting for U.S. operations. I spent two years in Paris, literally living the dream, before moving to their U.S. headquarters in Stamford, Connecticut.
Teaching Experience: Before coming to Woodsville in 2012, I taught French in Granville, NY and before that I taught French and Spanish in Fair Haven, Vermont.
What I teach: I teach all levels of French (1, 2, 3, 4) and all levels of Spanish (1, 2, 3, 4). Levels 3 and 4 in both languages are Running Start courses, which means that students can get college credit for the course. I love being able to share my experiences of living in France and Spain with my students. I have some rather funny stories to tell!
Extra, Extra!: I am the advisor to the French Club. We travel to France every year, alternating between Nice and Paris. I love making French and Spanish foods to share with my classes. The picture you see if of me learning to make baguettes at King Arthur Flour in Norwich, VT. If you take any of my courses, you will certainly enjoy learning about and making authentic foods. I have the sweetest cat named Pooh Bear. She is part Maine Coon and does the funniest things. My students have a lot of fun on Pet Day when they can share photos and tell stories (in French or Spanish, of course!) about their pets.