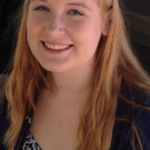 Background
: I grew up in a small, rural town in the Lakes Region. I loved reading and my parents encouraged me to learn about every subject imaginable. I was on a successful competitive dance team from ages 8-16, allowing me to travel up and down the east coast. I'm hopeful that one day I'll be able to visit the west coast and Midwest! I now live in Vermont with my Havanese dog, Webster.
Education: I was the first person in my family to attend college. I attended George Washington University in D.C. for my bachelor's degree and my master's degree. I was on my sorority's executive board all 4 years of my undergraduate experience. I hope to earn an ESL certificate to better support English language learners in a classroom setting.
Experience: I have taught a variety of ages in the classroom. My first classroom position was working at a private Montessori school where I taught preschool. I then taught at public middle schools in both D.C. and Virginia. I moved back to NH during the summer of 2020 and began teaching special education at a private boarding high school that fall. At that school, ESL services fell under special education, so I worked with English language learners in addition to students with executive function disorders. I also taught algebra and literature classes to students with learning disabilities and co-ran the drama department. I wore many hats, but it was a really unique experience to work with students from around the world aged 13-20. After several years in a city, I found I missed living in a rural setting, and so I joined the social studies department at Woodsville in July 2021.
Fun Facts: I have acted, directed, and choreographed in professional and amateur theatre. My professional experience in DC was mainly in Shakespeare and other classic works, while my professional work in NH has been primarily in musical theater and modern plays. I've also had the opportunity to conduct research at George Washington's Mount Vernon estate while I lived in Washington, DC. My research on the colonial era and George Washington resulted in several published works. Funnily, my primary areas of study were immigration and labor history in the 19th century, but my unrelated research at Mount Vernon was particularly fruitful. I love reading, writing, quilting, and genealogy. Depending on my stage in the process, I love garment making. I also like to paint, although I am very bad at it.
What I Teach and Advise: I currently teach Western Civilization, Government & Civics, Economics, and US History II. I am the advisor for the WHS drama club.