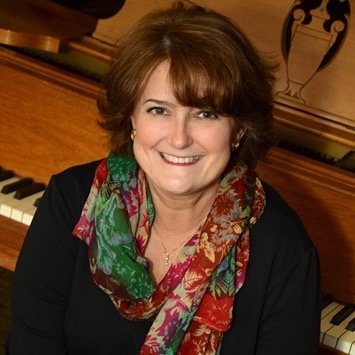 A Little About Me: Roxanna Zampieri, Chorus Director and Music Electives Instructor Woodsville High School, General Music and Choirs Haverhill Cooperative Middle School
Educational Philosophy:
It's my life's work to help students of all ages find joy in creating music and to inspire a lifelong love of music and the arts. My style blends classical music education methods, emphasizing global music education, popular music, and world cultural studies.
Basic Info: I am a native Vermonter, grew up in South Ryegate, Vermont, and attended BMU K-12. My love of music began when I received my Father's accordion at age 5 and began music lessons. I remember playing "Skater's Waltz" at my first concert! In grade 3 it was suggested by Wellington Lee, a renowned concert pianist from Ryegate, VT., that I switch to piano. I studied under the Juilliard-trained Katrina Munn in Bradford, Vermont, until I graduated high school. At BMU, I loved learning how to play the band's instruments, learning many of them independently. I was able to fill in for whatever instrument the school needed. I also loved singing in chorus and was fortunate enough to have joined the North Country Chorus under the Direction of Mary Rowe at a very young age, which gave me a chance to be able to sing additional advanced repertoire not being offered at school. After High School, I attended the University of Vermont and Graduated with a B.S. in Music Education. I studied classical piano under Elizabeth Metcalf, who debuted with the Toronto Symphony at age 5. I have taught in private schools in Boston, Darien, and Greenwich, CT, and public schools in Bristol, NH, Newbury, VT, and beginner band at BMU. I also have served as an Arts Curriculum Coordinator for many years and as an Arts Administrator. I am extremely happy to teach at Woodsville High School and Haverhill Cooperative Middle School. I love teaching and am excited to bring my 32 years of teaching experience and love of the arts to all students and families in the area.
Please feel free to check out my website to view famous musicians I have collaborated with for classroom projects and teaching: www.roxzmusic.com
Favorite Classical Composers: Johann Sebastian Bach, Ludwig van Beethoven/
Favorite Bands/ Musicians: U2, The Police, and 80's New Wave, Chris Botti
Favorite all-around musician and musical inspiration: STING
Additional Training:
United Nations World Institute, Rock and Roll Hall of Fame Teacher's Institute, International Baccalaureate Primary Years Program, and Middle Years Program, Core Knowledge Certified, Montessori Music, Orff, Kodaly, Core Virtues, Responsive Classroom, and Music Therapy.
Interests: Travel, concerts, world music, folk instruments from around the world, community service, and spending time with the joy of my life, my 5-year-old John James Zampieri, II, named after my late Father, who was a Graduate of Woodsville High School.