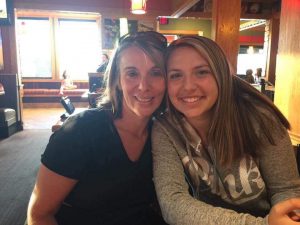 About Me: Hello everyone! I am the School Counselor at Woodsville High School. I am native to the area. I knew from a very early age that I belonged here, so I trusted my instincts and decided to put down roots in Haverhill. I met my wonderful husband, Brad twenty-six years ago, and we have raised our two beautiful children, Dylan & Olivia, here in Haverhill. Our family has extended over the years with two Siberian Huskies (Jack & Rory), two Shih Tzus (Reilly & Miles) and one cat (Vanna). We reside in the Mountain Lakes district where we enjoy taking our fur-children on walks, and swimming in the lake.
My Educational Journey: I obtained my Bachelor of Arts in Psychology from Vermont College in 2005. I continued on and earned my Master of Education with a certification in School Counseling in 2009. I am currently certified in both New Hampshire & Vermont. I have decided to continue in the field of education and am now pursuing my Certificate of Advanced Graduate Studies in Educational Leadership from the University of New England. My Career: After earning my Master of Education, I became the Mentoring Program Coordinator here at Woodsville High School. In this position, I structured the mentoring of elementary-aged children by Woodsville High Schoolers. From there I took over as the Family & Consumer Science teacher. In that position, I continued my work with the Mentoring Program, but took over the instruction of FCS classes at WHS. In 2016, I was hired as the School Counselor, where I have the opportunity to help students make choices that will affect their careers, lives, and in particular, helping soon-to-be graduates select colleges. Along with my positions held, I am a Class Advisor, and am on the Pupil Personal Department, a group of teachers and staff who look for ways to extend learning opportunities for WHS students. In March, 2018 I was the recipient of the NH Education Association's Stephen Guberman Award for my work in the Keep Woodsville Open coalition. I was also honored with the Mountain Lakes Person of the Year Award in 2008.
Fun Facts!: Something that I value greatly is community, and emphasizing the importance of having a strong community. I enjoy doing my part in making our community the best that it can be. I served as a Mountain Lakes Commissioner from 2002 to 2009. I have also consistently participated in a range of community-wide events including fundraisers and dinners to benefit a specific cause. In my pastime, I enjoy walking my pooches and gardening.
My happy place is Old Orchard Beach, ME. The calm breeze and the smell of the ocean is all I need to get in a serene state of mind. The ocean is nature's best medicine. One of my guilty pleasures is antiquing. I love to find a perfect piece of furniture that hosts a long history. A ding or a scrape doesn't always mean damage, it's just a part of its past. (This philosophy can be applied to life also). I like to think of myself as a very accessible person, so if you have any questions about Woodsville High School or the amazing curriculum we offer, please don't hesitate to reach me by email: rfarr@sau23.org