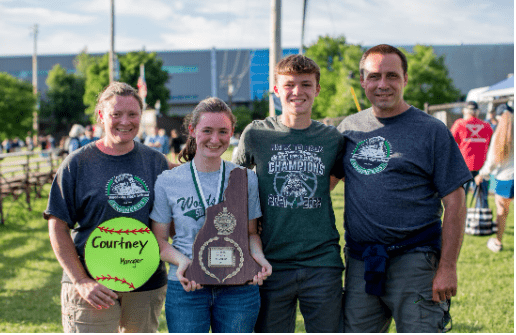 Mrs. Lori Taylor – Athletics Director
Background:  I grew up on the farm with the round barn in Wells River, VT.  I went to school at Newbury Elementary and Oxbow High School.  My husband Matt and I have 2 children, Courtney and Ben, who are both students here at WHS.  We've lived in Pike for the past 20 years, recently moving up on Jeffers Hill, where we are busy putting on an addition and enjoying our 42 acres.
Education/Experience:  I graduated with my bachelor's degree in Exercise Science from the University of North Carolina at Greensboro, where I played softball.  I completed my Cardiac & Pulmonary Rehab internship at the Moses Cone Heart Institute in Greensboro and started working at Cottage Hospital in 1998.  I began coaching that winter at Oxbow High School, where I was the JV Girls Basketball Coach and Assistant Varsity Coach.  Once our kids entered school at Woodsville Elementary, I took a little hiatus from coaching until I became involved with the Haverhill Area Little League.  In 2016 I became the Athletic Director at HCMS and coached the Girl's Softball team there for the next 4 seasons.
Fun Facts: I love to read mysteries/thrillers and historical fiction. I enjoy hiking, working in our garden, snowshoeing in the winter, and watching sports.  I especially love watching the Woodsville Engineers and the Boston Red Sox.

Lori Taylor
Athletic Director
Woodsville High School/Haverhill Cooperative Middle School
603-787-9727