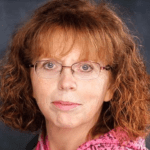 Basic Info– I was born in upstate New York but grew up in FL. I have several siblings and come from a military family.
Education– After high school, I joined the United States Air Force and saw the midwest.
I began working on a nursing degree in 2004, but realized that was not what I truly wanted to
do. After moving to New Hampshire in 2008, I obtained my BS in Behavioral Science.
Work Experience- I spent my young adult life working in retail and then spent several years in banking before moving to New Hampshire. My first job in Woodsville was working with adults with developmental disabilities which I did for almost 5 years. In 2013, I became an
Instructional Assistant at HCMS working with 4th and 5th graders. I loved working with children
and really enjoyed my time there. I took time off to be a home provider for a young woman for
five years and returned to education last year at Woodsville High School as the JAG Youth
Specialist.
Extra, Extra! My husband is Scott Nichols, former Social Studies teacher and now the Library
Media Specialist, ELO Coordinator for WHS. We met in 2003 and have been married since
2006. We have two beautiful fur babies…. Elvis is our 4yr old Lab/Springer Spaniel mix and
Hope is our 1 1⁄2 yr old Chocolate Lab. We love traveling and our favorite vacation spot is Las Vegas!