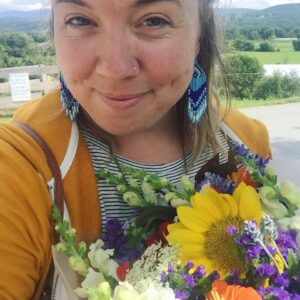 Background:  Formerly the music educator at Woodsville HS (beginning in 2008), I am now the Family & Consumer Sciences teacher at WHS since 2021.
Education: I studied Music Education at The Crane School of Music, graduating in 2006, and studied Early Childhood Education at Plymouth State University for my grad work.  I attended high school in Saranac, NY, where I grew up.
Experience:  I began teaching in 2006 in SAU 23 as a traveling elementary music teacher.  I offered daily music instruction to all elementary schools in the district (except for Piermont).  After a year of teaching music, I decided that I wanted to pursue early childhood education and someday open my own Montessori school.  I began my graduate work while teaching preschool in Norwich Vt.  In 2008, I had my daughter, LJ, and began my plan to be a stay-at-home mom for her first few years.  A few weeks after her birth, the principal at the time from WHS called me and asked if I'd consider teaching just chorus classes for 2 hours a day.  I was reluctant, as I'd decided music wasn't for me anymore but agreed I could fill in for them for a year.  That definitely wasn't how it went down – as I fell in love with Woodsville HS and the amazing people I spent my days with – and stayed as the choral director at WHS from 2008 through 2021.  I eventually worked at HCMS and WHS offering all choral classes and general music, and in my final year as a music teacher, I taught band, chorus and electives at WHS.  During the COVID-19 pandemic, I began working in both our music and FACS departments and really fell in love with the content area.  I've always been very creative, and have designed my own clothing (knitwear and sewn garments) since I was young, and of course had an intense appreciation for child development from my parenting two children of my own, and my graduate work.  When WHS restored the music and FACS positions to full-time, I decided to leave music behind and begin a new full-time adventure in FACS.  I love getting to have such a varied day, where one hour we are reading children's books, the next cooking crepes or sewing patchwork bags, and even learning about interior design. It is a unique and versatile subject area that many schools do not have anymore.  I feel our FACS offerings make WHS really special for all kids to explore real-life skills.
Fun Facts: I am married to Mr. Flateau, who teaches Science, Psychology, and Health at WHS.  We coach the track & field team in the Spring, and we make a formidable pair when it comes to Fall Frolic!  We have two kids, LJ and Orion – a tortoise named Grimlock and a cat named Chi.  Mr. Flateau and I have been together for over 20 years and began dating in high school.  We believe in Woodsville so much and love raising our family here!