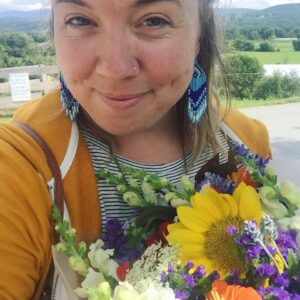 A Little About Me:
Basic Info: I have lived in Woodsville since graduating college in 2006.  I grew up in Upstate NY.
Education: I graduated with a Bachelor of Music Education from The Crane School of Music, then went on to do graduate work in Early Childhood Education.
Work Experience(s): I have taught in Haverhill Schools since 2006 and have now taught in every school in the district and all grade levels (except for Piermont)  I have also taught Montessori preschool, as well as have my own side hustle where I make and resell clothing.
Teaching Experience: I taught music in a variety of settings K-12 until 2020 when I transitioned to teaching Family & Consumer Sciences full-time.
What I Taught: K-12 Vocal, General, and Instrumental Music, Foods 1 and 2, Garment and Textile Design 1 and 2, Mentoring, Housing and Interior Design, Child Development, Foundations of Education and Psychology.
Extra, Extra! I coached track and field at WHS with my husband, former teacher Aj Flateau from 2008-2023.  We are now the WHS Track and Field team's biggest cheerleaders!