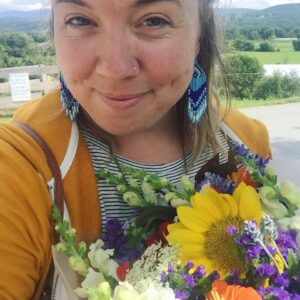 Basic Info
I grew up in upstate NY, with my parents and 2 younger brothers.  In my high school experience I ran Cross Country, Indoor Track and Outdoor Track each year. I was in band where I played clarinet, bass clarinet, and a little saxophone in the jazz and concert bands (which had about as many kids in them as WHS has in total)  I was in the drama club from 7th grade onward, and had dreams of living in NYC and basically becoming Gilda Radner someday.  What's sorta weird is that I didn't join chorus until 9th grade, at the insistence of my best friend.  I always thought chorus wasn't something I'd enjoy, but it didn't take long to fall in love with it completely.  Something about joining voices with so many of my peers really spoke to me, and by the time I was in 10th grade I knew I wanted to bring this joy to others.  My high school chorus teacher was a huge inspiration for me; He was not only was a charismatic and skilled choral director, but offered kids from all grades, all walks of life a place in our school where we could exist and relax.  He is my inspiration for why I eat lunch with my students (and often kids who I don't teach who wander in) each day at WHS.  His gift of time and space will always be what I remember most fondly about my high school experience.
Education
I attended the Crane School of Music at SUNY Potsdam from 2002-2006, and graduated with a Bachelor in Music Education with vocal emphasis.  While at Crane I was a member of the Opera Ensemble, several choral ensembles, and studied voice privately for 4 years.  I also took instrumental methods courses covering all wind and string instruments and studied piano for 4 years.  I was an RA in my dorm for my sophomore and junior years, and my student teaching experience was in Valatie, NY, in the Ichabod Crane primary school and high school.
I also have 26 credits of graduate coursework from Plymouth State University, which I did between 2007-2009.  Most of this work is in early childhood education and child development.
Work Experience
My first teaching job was in the elementary schools in the district (WES, BVS, and WVS).  I carried tote bags filled with instruments, scarves and beanie babies for keeping the beat during Kindergarten music class.  I sang and danced each day with hundreds of kiddos and was super proud of myself when I knew all of their names by the 2nd week of classes.  As much as I loved music education, I loved the idea of having one group of kids to spend a year with even more, and decided to leave music education in June of 2007 and began my graduate work, with the intended career of being a public school Kindergarten teacher, or opening a Montessori Kindergarten.  I took a job teaching preschool in Norwich, VT in 2007, and stayed in this position until my daughter Lilidae was born in May 2008.  A week after her birth, a former WHS principal called me and said the HS chorus teacher was leaving at the end of the year, and the position had been reduced to part-time.  He asked if I would be willing to come teach chorus each day, and a piano class in the spring as well.  I began teaching part-time at WHS in the fall of 2008, with the intention of it being a one year gig til I could complete my masters work.  Within a month of teaching at WHS I was reminded of why I fell in love with chorus as a high school kid myself – and knew I had found my niche.  I put my masters work on hold, and stayed working at WHS part-time for 3 years.  In 2011, my position at WHS was merged with the HCMS choral/general music position and I began trekking back and forth twice a day between schools.  I enjoyed playing ukulele with HCMS kids in the morning, singing and "lunching" with WHS kids in the middle of the day, and finishing the day singing with HCMS kids for 6 years.  Starting this fall, I will be at WHS full time as choral director and teaching an exciting variety of electives that will offer students who don't want to be in an ensemble the ability to study music on their terms.  I am so thrilled to be invested fully in one school, after so many years of traveling, and am looking forward to many more years of lunch-time chats with students.
Extra/Extra
My husband is Aj Flateau, science teacher extraordinaire at WHS (in the room next door).  We began dating in high school (1998) and have been together ever since.  We have two kids, Lilidae (10) and Orion (6).  We coach the track and field team at WHS together, and are co-advisers of Creators Club.  When I am not teaching I am always creating – whether is knitting sweaters, sewing dresses, or making jewelry.  I also am the adviser for the Engineers of Sound at WHS, a primarily a capella singing group.