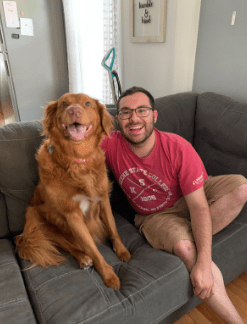 Basic Info: I'm originally from a large suburb of Worcester, Mass. My high school graduating class was over 400 people and our band had over 100 students involved. I moved to NH for college and then to the north country following graduation for my job. I have a girlfriend who teaches Kindergarten and 1st Grade, and we live by Mount Washington with our 11-year-old golden retriever, Daisy, and 3-year-old Golden Retriever Maple. I am the biggest Red Sox fan on the planet and you will see that if you check out my desk. My brother, who's 22, actually works for the Red Sox and also interned in the summer of 2022 at the Baseball Hall of Fame in Cooperstown, NY. (I love baseball, if you couldn't tell).  When it comes to college sports, I'm a BIG University of Maryland guy (my mom and uncle are alumni). I love "The Office" and "Brooklyn Nine-Nine" and have also recently gotten super into "Survivor." My favorite band is Trombone Shorty & Orleans Avenue, you should check them out. They've fused rock, hip-hop, soul, and jazz together for a perfect New Orleans gumbo of sound.
Education: I have my Bachelor of Music Degree in Music Education with a concentration in Trombone from Keene State College and graduated summa cum laude.
Teaching Experience: This is my 4th year teaching, all in SAU 23, with all 3 prior years at HCMS. There I taught band (lessons and ensembles), chorus, 4th and 5th grade music, as well as some special education/music fusion. When I arrived at HCMS, there were no more than 20 students in band grades 5-8, but I'm proud to say we have eclipsed 60 students enrolled. I also created a jazz band there, something I hope to soon bring to WHS. 
Music Performance Experience: Performing has always been a massive part of my life. Here are some highlights from different stops along the way…
My biggest personal project I've done is this YouTube playlist. During COVID, I missed making music with people so much, it was the most challenging part of the pandemic for me. I took it upon myself to find a way to continue performing and made 160 multitrack recordings you can check out. There's so much variety on there, from opera to country to rock to jazz to pop to holiday music…you can find something you enjoy!
Post Grad: I spent three years as the bass trombonist of the Dartmouth College Wind 
Ensemble as a community member. In that group, we established the Mexican Repertoire Initiative, created to bring more authentic Mexican music written by Mexican composers to the US and Mexico for students to play. This brought them music they could identify with, something that had long been missing. In March, we went on a tour of Mexico and played 2 huge concerts: one in the oldest theater in America in Puebla and one in the premiere concert hall in Latin America, Sala Neza. We premiered over a dozen works while I played with them, including 5 on that tour. You can also find me on my friend's Skah band "Sotah"s EP, "Love/Hate" on the song "Shadow Over My Heart.) I've also appeared with the Lakes Region Symphony Orchestra, the Baker Valley Band, and other groups local to NH. 
College: In college, I played in tons of ensembles in and around Keene. My biggest performance was being the featured soloist for KSC's 11th Presidential Inauguration of Dr. Melinda Treadwell. My favorite kind of music is jazz or anything remotely related to it. I was lucky to play bass trombone in the regional band the "Keene Jazz Orchestra" in college, which was founded by my late friend and professor Scott Mullett. I have a plethora of playing experience in the following genres: jazz, classical, modern, contemporary, orchestral, and probably anything else you can think of. At KSC I was in the jazz band, jazz combos, concert band, orchestra, brass ensemble and brass quintet. I put on a senior recital in which I premiered my composition, "Sonata for Scott in C Minor." I was a principal trombonist and bass trombonist in an intercollegiate festival and have played in over a dozen theater pits, my favorite of which was "Newsies!"
High School: This was a while ago, but I was in the MA All-State Jazz Band my junior year. It was particularly cool because we got to perform at Symphony Hall in Boston and at the legendary Newport Jazz Festival the following summer.
Extra!
I am a HUGE baseball card collector. If you're into any card collecting, let me know!