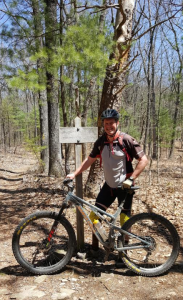 Basic Info
I was born in a small town in Missouri a few years back.  I lived in Minnesota and Wisconsin before moving to Plymouth, Massachusetts just prior to beginning  4th grade. I have three sisters, all younger who also live in New England. My oldest son is a carpenter who lives in Lyndon, Vermont and my youngest worked on a crab fishing boat in Alaska this summer.  He will return to Sandpoint, Idaho later this summer to work at Schweitzer Ski Area. My oldest son and I hope to ski with him during the February 2019 break. I have been working part time as a DJ for the past 10 years.  I generally do weddings at a variety of venues in NH and Vermont. The extra income goes toward my favorite hobby, riding bikes. I own five bikes and crash enough to need replacement parts or bikes on a regular basis. I also enjoy attending a variety of live music events in my spare time.
Education
I graduated from the University of Vermont with a Bachelor's Degree in Political Science.  I earned a Master's Degree in School Counseling from Plymouth State University in 2013.
Work Experience
I worked for Eckerd Youth Alternatives, a wilderness based alternative education program  for 26 years. I began my career as a counselor / teacher in Rhode Island. I moved up through the ranks, opening a new facility as the first director in Stewartstown, NH  and managing that program for five years. I then oversaw all of the Eckerd programs in New England for 16 years. I spent a year teaching Health at Saint Johnsbury Academy and five years at Lakeway Elementary School as the Behavioral Interventionist. I then joined the staff  at WHS as Dean of Students and have been excited to come to work every day since the fall of 2014.
Extra/Extra
I am the advisor for the WHS Mountain Bike Club.