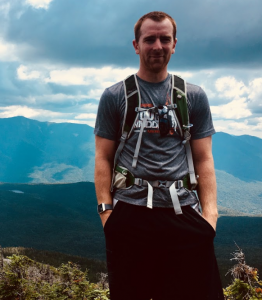 Basic Info: I am originally from Piermont, NH and graduated from Rivendell Academy in 2008. I have an outstanding wife (Samantha) for over 7 years, one 4-year-old son (Caleb), and one almost 2 year-old daughter (Norah). We enjoy being outside during all seasons, whether it is swimming/kayaking in the summer, apple picking and hiking in the fall, or skating in the winter.  I am a diehard fan of the Boston Red Sox, Denver Broncos, Boston Bruins and Duke Men's Basketball.
Education: I have a Bachelor's Degree in Kinesiology: Physical Education Pedagogy and a Master's Degree in Secondary Education from the University of New Hampshire. Currently I am pursuing my PhD in Physical Education from Springfield College.
Work Experience(s): One of my first jobs in high school was working as an aide for a local swimming program in Orford, NH. After a couple years of that I became WSI certified and took over that swimming program, which I still do every summer to date! During my college breaks I would come home and work at a local store as a cashier and deli/hot food cook.
Teaching Experience:  Right out of college I received a job offer from my alma mater and taught at Rivendell Academy for 3 years as their middle/high school PE and health teacher. I also coached middle school soccer and baseball and JV level basketball. After Rivendell I took an interest in Athletic Administration and did a year at Indian River where I taught health and ran their athletic programs. The 2020-2021 school year will mark my 4th year in Woodsville as the PE teacher and 3rd year as Athletic Director.
What I Teach: I teach General PE, Team Sports, Strength and Conditioning, Lifetime Activities, Unified PE, and Group Exercise.
Extra, Extra!: I am a triathlete and starting to prepare for a full 140.6 Ironman for the summer of 2021 or 2022!