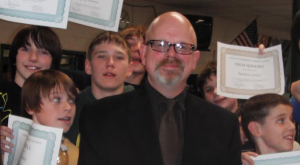 Basic Info: I am originally from Hooksett and graduated from Manchester Central High School in 1979. I have two sons (Scott and Michael) and two step-sons (Connor and Cameron). My parents are deceased and I have two sisters, 1 niece, 1 nephew, and three grandchildren (Logan-6, Luke-5 and Calvin-2). I have been married to my wife Becci, who is a math teacher in Piermont, for 8 years. She and I have a home in Plymouth, NH where we enjoy hanging out by the pool in the summer and on the couch, usually watching Netflix or Football, the rest of the year…
Education: I have a Bachelor of Science Degree in Music Education from Plymouth State College (yes, I'm that old), a Master's Degree in Educational Leadership (Principal Certification), and a Certificate of Advanced Graduate Studies (Superintendent Certification), both from Plymouth State College.
Work Experience: Following college I returned to the middle school I had attended as a child in Hooksett and taught band, chorus and general music there for 16 years. My ex-wife and I decided to move to Plymouth in 2000 as she had secured a teaching position in Thornton. I took a position at Ashland Elementary School where I remained for 1 ½ years until I was approached by my former Principal, who was by then a Superintendent, about coming back south as an Assistant Principal at the Auburn Village School. I remained in that position for 3 ½ years until I took a job a bit closer to home as the Principal of Newfound Memorial Middle School. I remained there for 11 years before coming to Woodsville and my present position.
Co-Curricular: I began playing the saxophone at the age of 10 in my local school music program and have been performing throughout New England for the last 38 years. I have played with a variety of groups throughout my career but was a member of "Straight, No Chaser-Raccoon Beach-The Attractions" (same band, different purposes) for over 30 years. It was with this group that I had the pleasure of playing at the Blue Note in New York City, the Newport Jazz Festival at Saratoga Springs, and opening for Joe Lovano at the Portsmouth Music Hall. Other playing opportunities have included "The Seacoast Big Band", "Players", "Tongue in Groove", The Joe DeRose Big Band and a host of others. I have also been fortunate to have had the opportunity to play one-off performances with "The Shirelles", "Lou Christy", "Leslie Gore", "The Four Tops", and "The Platters". While I'm not playing nearly as frequently these days, I can still be heard the 3rd Sunday of every month, from 6:30-9:00, at Hermano's Concina Mexicana in Concord, where I have been performing for the last 26 years.