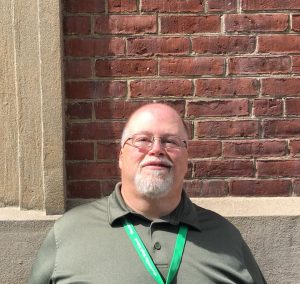 Basic Info
I grew up in Groveton, NH. My family consisted of a younger brother and sister, a stay at home mom, and a father that worked at the paper mill. A very old fashioned upbringing by todays' standards. In high school I would find math fairly easy and would always be tutoring others. Helping others understand things, and a great math teacher named Mr. Harding, set me on a course to become a teacher.
Education
I attended Plymouth State College for my Bachelor of Science degree in mathematics education.  While there, I continued to help others with tutoring and adjusting to college life as a resident assistant. One year my fellow resident assistants voted me RA of the year. To get through college and summers when I started teaching, I had many jobs, including sales clerk at a gas station, dump truck driver, tutor, shingle installer, sheetrock installer, cook, ride operator at Six Gun City, and an assistant manager at a footwear store.
Work experience
My student teaching experience was at Gorham High in Gorham, NH.  I taught for four years at Stratford Public School in Stratford, NH.  I moved to southern Maine for a young lady and taught one and a half years at Northwood School in Northwood, NH. A few years later I moved back north with my wife Lucie (a hair stylist working in Littleton, NH). I taught for one year at Daisy Bronson middle school. I left teaching for about 10 years working as an optician in Lancaster, NH. I went back to teaching for three years at East Burke School in Vermont before starting here at Woodsville High School in 2016.
Extra/Extra
I am a coin and stamp collector. I enjoy watching sports and try to attend as many W.H.S. events as possible (go Engineers). Ms. Pilotte and I are the advisors for the class of 2020.  I have been married for 23 years to my beautiful wife Lucie who has her own shop in Lisbon, NH (Snips Plus).