Tuesday, October 30th, 2018 WHS Daily Announcements
Today is a White Day

This Week @ WHS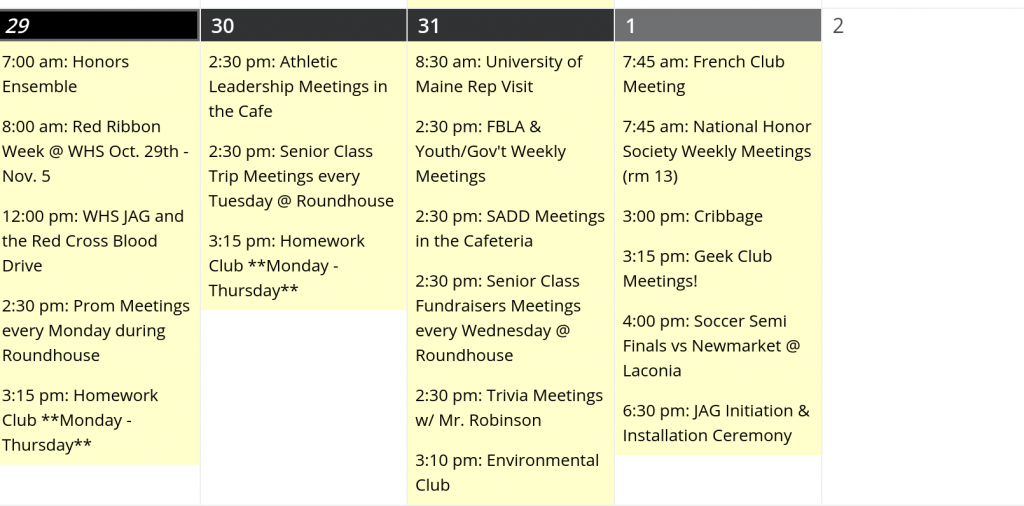 JAG Initiation & Installation Ceremony
    November 1st at 6:30pm in the WHS Community Building  We will be welcoming our new members and installing our officers for the 2018-19 school year.
Buy Your 2019 WHS Yearbook!
See Mrs. Youngheim in Room 25 to order. Cash and checks (made out to WHS) are accepted.
* You can also order online –
HERE

Chess Club begins on Monday, November 5 after school in the library!
Mrs. Peckett has challenged Mr. Chase, who has accepted and plans to be there.
Let the games begin!

On Friday, November 16, 2018 Guidance will be taking interested seniors to spend the morning at White Mountains Community College to explore their campus and programs.  
Please sign up by TODAY
.  Space is limited.
Many scholarship opportunities have been posted lately. Please make sure to
check with WHS Guidance at least once a week.

Students who would like to take the ASVAB test on November 8th can sign up now

The Junior class will be selling Poinsettias this week. Any junior that did not get an order form please see Mr. Cummings ASAP. Orders are due back no later than Friday.


It is Red Ribbon Week!

Red Ribbon Week is an alcohol, tobacco, and other drug and violence prevention awareness campaign
Roundhouse Door Decorating Contest Starts and will be judged the the Haverhill Police Department

Freshmen Executive Council to meet in Mr. Scianna's room on Thursday at 7:45am


Our Ladies will play Newmarket on Thursday, Nov.1st at 4pm
WHERE: the Bank of New Hampshire Stadium in Laconia –  #GoEngineers!!!
Tickets are $5 for students and $7 for adults at the semi-final game this Thursday.
It is also a mobile event, so you can download the GoFan App and buy a ticket through the app.
Just search for Woodsville High School.