October 3rd, 2018 Daily WHS Announcements
Today is a Green Day
-This Week at Woodsville High School-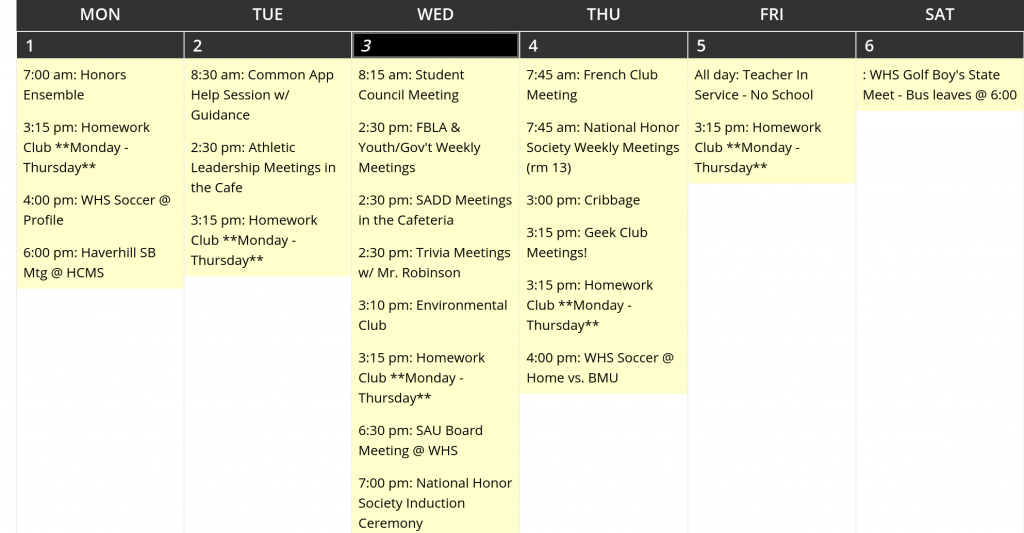 Students and staff are reminded that they should not ever open an outside door for someone they do not know. It is sometimes difficult to overcome the instinct to be welcoming and polite but visitors need to be cleared through the office in order to maintain a safe and secure school environment. Thank you!
SADD will not be meeting this week
Students who would like to take the ASVAB test on November 8th can sign up now in Guidance
Woodsville High School's Fall Frolic will be Friday, October 12th…
more info coming soon from your WHS Student Council!
Engineers of Sound will be canceled next Tuesday October 9th
——————————————————–
Senior Class
Prom meetings every Monday during roundhouse
Class trip meetings every Tuesday during roundhouse
Fundraising meetings every Wednesday during roundhouse
Senior supper-sign up in guidance with Mrs. Farr
————————————————————–
Students please remember that:
Backpacks should remain in your lockers from Arrival in the AM until 3:00 PM.
No exceptions please.
The 2019 Engineer yearbook is now on sale!
They are $25. See Mrs. Youngheim in Room 25 to order.
Price increases to $30 on October 20! Cash and checks (made out to WHS) are accepted.
* You can also order online – HERE
* WHS Athletics *