January 14th, 2019 WHS Announcements

Monday, January 14th, 2019 – Today is a Green Day
The 1st Semester this Friday   * It is an Early Release Day

Students: Please review the Updated Roundhouse Procedures

Seniors, your dues are past due.  

If you have not paid yet, please see Mr. Edwards/Mrs. Farr asap.  The next major deadline is March 1st. Please inform Mr.Edwards or Mrs. Farr if you will be going on the class trip.  If we do not hear directly from you with a commitment to attend… you will not be going.

Looking for ways to make a positive impact in our community?


Find out how and come visit with dozens of Community Service Organizations on Saturday, February, 2nd, 2019 from 1-4pm at the Morrill Building in North Haverhill. This is a FREE Event…Hope to see you there!    




See the Event HERE
    Applying for College Night  for Juniors – February 7, 2019 at 6 p.m. in the WHS Library
     Paying For College! for Seniors – March 12, 2019 at 6 p.m. in the WHS library
Upward Bound will be here on Tuesday, January 15th at 8:30 in the library for any Freshmen, Sophomores or Juniors interesting in hearing about their program


The Health Careers Institute at Dartmouth is offering an exciting Summer Program for high school students who have expressed an interest in working in health care or want to know more about clinical and non-clinical health careers. Students entering grades 10, 11, and 12 who want to learn about careers and important issues and topics in healthcare today, are encouraged to apply.
See Mrs. Farr with any questions you might have
–
or go to
WoodsvilleHighSchool.com
See Mrs.Youngheim in Room 25 to order.
Cash and checks (made out to WHS) are accepted.
* You can also order online at
WoodsvilleHighSchool.com
 or –>
HERE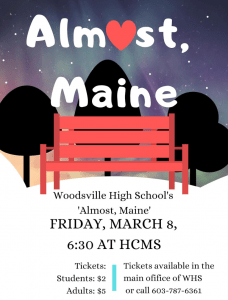 Next Thursday Night is the WHS Senior Symposium!
– Starting @ 6:30 in the WHS Library-
All practice/game dates and times are subject to change  * Please contact your coach for most accurate information
Important Notice:
All athletes need to wait outside the community building after school until a coach is present.