Friday, March 13th, 2020 WHS Announcements
 
"It's Not Whether You Get Knocked Down, It's Whether You Get Up"  ~Vince Lombardi
WHS Library & Learning Commons

The deadline for the Literary Honor Cord requirements is coming soon: May 1st

Visit us online at
WoodsvilleHighSchool.com/llc

Donkey Basketball that was scheduled for Saturday has been postponed
The North Country Music Festival for Monday the 16th has been cancelled
Paying for College 101 on April 2nd has been postponed
Scholarships are available at the Guidance Office



Any Senior that is willing to run for Prom King or Prom Queen please email Mr. Cummings as soon as possible to get your name on the ballot.

Spring registration for athletics is now open! Anyone interested in baseball, softball or track and field need to register before March 23rd in order to participate. All athletes are reminded that they need to return jerseys from winter season before they can play.
SAT Math help is available every Monday after school

SAT English help is available every Tuesday after school

The SAT Test is April 14th
TONIGHT!!!  Class of 2021 Taco Dinner Fundraiser

Tuesday, March 17th    *    Wear Green!

According to the World Health Organization,
properly washing your hands
means washing as long as it takes to sing your ABCs or  "Happy Birthday" twice (20 seconds or so).
It might be more fun to sing "Bohemian Rhapsody" and make some new friends 😃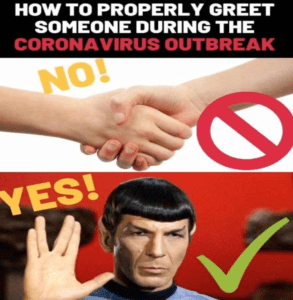 Woodsville Antique Show     * March 28th * 10AM – 3PM
World Autism Day is April 2nd – Wear Blue!
SAT Test is April 14th
Spring Vacation April 18th – 26th
The JAG Blood Drive is May 7th – See Mrs. Nichols to reserve your time today.

AP Exams – May 6th & May 13th
PROM
May 16th    * 6-10 PM   * North Haverhill Fairgrounds